ICSTSN2022 Proceedings
The Proceedings of ICSTSN2022 (First Edition) have been published in IEEE explore digital library. Click here for Proceedings
Date
21st - 22nd April, 2023
Mode
Hybrid (Physical and Online)
Publication
The Proceedings of ICSTSN2023 (Second Edition) have been published in IEEE explore digital library.
Click here
------------------------------------------------------------
Important Dates
Events
Dates
Starts
Closes
Deadline for Full paper submission
20th December 2022
17th February 2023
Notification of Acceptance

8th March 2023

Deadline for Camera Ready Manuscript Submission

10th March 2023
20th March 2023

Deadline for Authors' Registration

20th March 2023
30th March 2023
Closed

Conference Dates

21st April & 22nd April 2023
IFET College of Engineering, an autonomous Institution of repute, was established in the year 1998 under the aegis of Indo French Educational Trust. The college has gained high reputation in the society through its academic excellence and placement records and is located in Villupuram, Tamilnadu. The institution is affiliated to Anna University and has been accredited by NAAC and NBA. The college is also recognized by UGC under 2(f) and 12(b) status. The college presently offers eight UG programmes in the discipline of CSE, ECE, EEE, IT, Mechanical, Civil Engineering AI&DS and AI&ML, three PG programmes in the specialization of CSE, Applied Electronics and MBA. Recognized Research Centers by Anna University conduct Ph.D programmes for department of ECE. IFET stands with pride in receiving the best college rank as rated by the "India Today" survey in 2019. The trust has taken sufficient steps in achieving its vision under the professional and vibrant stewardship of Mr.K.V.Raja, Chairman, Mr.K.Shivram Alva, Secretary and Mr.R.Vimal Treasurer. The sprawling campus provides a holistic education in an ambience that makes no compromise on discipline, dedication and commitment. IFET has a phenomenal infrastructure, well defined-educational system and qualified faculty to mould Engineers of high quality on par with the International standards. Realizing that Research and Development is a key factor which fosters innovation, avenues to create a research atmosphere to meet global challenges are implemented in the institution. Students and Faculty are encouraged to publish their research work in journals and conferences of repute.

Autonomous Status

Accredited by NBA

Accredited by NAAC

CISCO Certifed CCNA

IIT Bombay research center for FDP

Centre of Excellence-Aspire Systems

Platinum Category in AICTE CII Survey in 2019

Centre of Excellence-Solverminds

Centre of Excellence-Virtusa
About IEEE
IEEE is the world's largest technical professional organization dedicated to advancing technology for the benefit of humanity. IEEE and its members inspire a global community through its highly cited publications, conferences, technology standards, and professional and educational activities. There are over 400,000 members from more than 160 countries and 342 Sections in ten geographic Regions worldwide. As of April 2021 statistics, there are totally 3,485 Student Branches at colleges and universities in over 100 countries.
About IFET IEEE Student Branch
Student branch at IFET promotes awareness of the goals IEEE among students across all departments . The student branch also provides the opportunity for the students to acquire and enhance the knowledge from teaching professionals and young researchers in their specific domain. The student branch motivates the student to participate in various events organized by the section such as project contests, symposia and student development programmes. In addition, motivational talks and webinar series on recent trends are regularly organized for the students by IFET Alumni
ABOUT ICSTSN 2023
International conference on "Smart Technologies and Systems for Next Generation Computing" has been convened to highlight all technical and practical aspects of Smart Technologies. The theme of the conference will foster an environment to create a conglomerate of professionals from academia and industry and focus on understanding the recent developments in this arena. This conference is aimed to bring out the current trends in global research, recent developments, challenges and emerging technologies in the field of Information and Communication. This also describes significant advances in the areas of Smart Technologies which finds applications in diverse domains.The final outcome is bound to improve the knowledge and understanding of latest technologies from a production perspective and establish new collaborations.
Paper Submission
Submission Guidlines
The original unpublished manuscripts having maximum length of 6 pages on the topics related to the theme of the conference are invited for presentation/publication in the conference proceedings
Kindly ensure that the paper is formatted as per IEEE template (not exceeding 6 pages) including authors' affiliations, figures and references
All submissions will undergo a double-blind peer review by peer reviewers and the selection will be based on originality, significance, quality of results
At least one author of an accepted paper must register and present his/her paper in conference
The IEEE anti-Plagiarism policy is applicable to all submissions. If any copyrighted content is used, permission log is required from the copyright holder
Additional pages per paper above limit will be charged
All papers must be submitted online via Microsoft CMT submission system using below link
Submission Format
Authors must follow the IEEE formatting & instructions. Click here IEEE Sample format.
Each paper will receive at least three reviews. At least one author of each accepted paper must register by the early registration date indicated on the conference website and present the paper.
Submission Link : https://cmt3.research.microsoft.com/ICSTSN2023
Publication
All accepted and presented papers will be published in conference proceedings and will be eligible for submission to be included in IEEE Xplore Digital Library
Computing
Sensor networks
Grid Computing
Cloud Computing
DNA Computing
Artificial Intelligence, Machine Learning and Deep Learning
Big Data/IoT
Bioinformatics and Scientific Computing
Computer Graphics & Virtual Reality
Computer-aided Design/Manufacturing
Data Mining
Expert Systems
Multimedia Applications
Pattern recognition
Security & Privacy in Smart Systems
Security & Cryptography
Block Chain Technology
Green Communications and Energy Efficiency
Circuit & Design
VLSI Applications (Communications, Video, Security, Sensor Networks, etc)
Smart cards
Nano Electronics/Devices
Opto-Electronic Structures/Devices
Nanophotonics
Smart Antennas/Solar Systems
Modulation and Coding Techniques
Propagation and Computational EM
4G, 5G and 6G Technologies
Ubiquitous Computing
Augmented and Virtual Reality
Biomedical Circuits and Healthcare Systems
Medical Image Analysis
Audio/Speech Processing and Coding
Power
Forecast and Power Management Micro Grid
Soft Computing Applications in Power Systems
Power System Modelling & Control
FACTS Devices - Applications in Power System
Switchgear and Protection
Smart Energy Distribution and Management System
Sustainable and Energy Efficient Computing Model
Other Technologies (OT)
Mathematical applications in smart computing and intelligence systems.
Humanitarian Technologies
Biological and Environmental Sciences
Applications of Nano-crystals in Engineering applications
Semiconductor Nano-crystals
Robotics and Control
Instrumentation and Automation
Diagnosis and sensing systems
Nano Technology and MEMS
Non-destructive technology
Smart building and Home Automation
Smart Mobility Monitoring and control
Smart Farming
Remote sensing
Genome Analytics
Chairs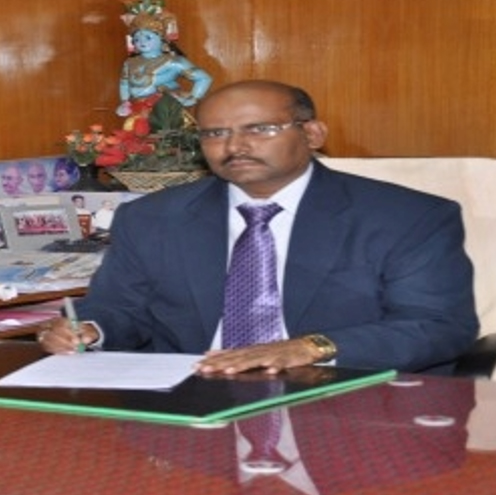 General Chair
Dr. G. Mahendran
Principal / IFETCE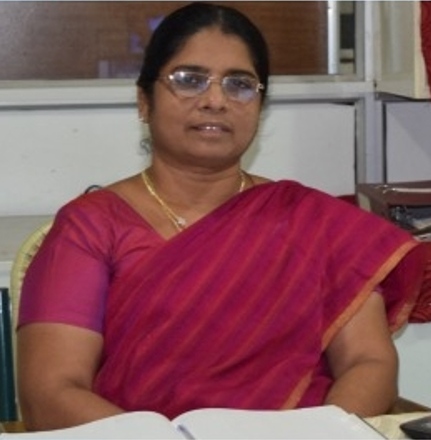 Conference Chair
Dr. S. Matilda
VP & Dean Academics / IFETCE
Session Chairs (Internal)
Session Chairs (External)
REGISTRATION
category
Registration fee
IEEE member
Non-IEEE member
Indian (INR)
Foreigner(USD)
Indian(INR)
Foreigner(USD)
Reseach scholars & student
(UG/PG) author
6500
120
7000
150
Faculty author
7000
150
7500
175
Industry & others
7500
150
8000
175
PAYMENT DETAILS:
Payment has to be done through Online
In Favor of: IFET COLLEGE OF ENGINEERING
Bank Name ; INDIAN OVERSEAS BANK
A/C No: 037802000000501
IFSC Code :IOBA0000378
Branch Name: VALAVANUR-605108
Branch Code: 0378
Type of Account: Current
PATRONS
Chief Patron : Mr.K.V.Raja, Chairman
Patron : Mr.K.Shivram Alva, Secretary
Co-Patron : Mr.R.Vimal, Treasurer
CHAIRS
GENERAL CHAIR: Dr.G.Mahendran, Principal
CONFERENCE CHAIR: Dr.S.Matilda, Vice Principal &Dean Academics
SECRETARIES
Dr.S.Jayalakshmy, Associate Professor/ECE
Dr.B.Elizabeth Caroline, Professor/ECE
Dr.U.Palani, Professor/ECE
Dr.P.Pugazhendiran, Professor/EEE
Publication and Finance Chair
Finance Chair: Dr.R.Senthil Kumaran, Associate Professor/ECE
Publication chair: Dr.T.Ananthakumar, Associate professor/CSE
EXECUTIVE COMMITTEE
Dr. P. Kanimozhi, HoD/CSE
Prof. T. Rampradesh, HoD/EEE
Dr. M. Margarat, HoD/ECE
Prof. J.Jayachithra, HoD/IT
Prof. V. Velmurugan, HoD/MECH
Prof. N. Porkodi, HoD/Civil
Dr.K. Bhuvaneshwari, HoD/MBA
Prof.S. Usharani, HoD/AI & ML
Prof.P. Hemalatha, HoD/AI & DS
TECHNICAL PROGRAMME COMMITTEE
Dr.J.Vidhya, Associate Professor/ECE
Dr.M.Saravanan, Department of ECE
Dr.Ganesa Balamurugan, Department of MECH
Dr.R.Senthil Kumaran,Department of ECE
Dr.T.Ananthkumar,Department of CSE
Dr.P.Soupramanien, Department of S&H
Dr. M. Murugan, , Department of S&H
Dr.P. Jacquline rosy, Department of S&H
Dr.K.Santhana Lakshmi, Department of S&H
Dr. D. Devi, Department of S&H
Dr.A.Vaithiyanathan, Department of S&H
Dr. C.Jesuraj, Department of S&H
Dr.K.Margandan , Department of S&H
Dr.R.Thendral, Department of CSE
Dr.R.Satheesh kumar, Department of S&H
Dr.M.Jebastin Sonia Jas, Department of S&H
Dr.A.AshaBanu, Department of S&H
Dr.D.Sathishkumar, Department of ECE
Dr.B.Elamvazhudi, Department of MECH
Dr.A.Bobin, Department of S&H
Dr.M.Rajarajan, Department of S&H
Dr.M.Vinoth, Department of S&H
Dr.V.C.Ananthi Malini, Department of S&H
Dr.L.Shiamala, Department of S&H
ADVISORY COMMITTEE
INTERNATIONAL MEMBERS
Dr.Lipo Wang, Professor, Nanyang Technological University
Dr.Jiankun Hu,Professor, The University of New South Wales, Australia.
Dr.Sim Kwan Yong, Associate Professor and Head of School Engineering, Swinburne university of Technology, Sarawak campus,Malaysia.
Dr.Yin-Wing Leung, Professor, Department of Computer Science, Hong Kong Haptist University.
Dr.Henry Selvaraj, Professor , University of Nevada, Las Vegas (UNLV), NV, USA.
Dr.Vallavaraj, Deputy Dean Academic Affairs, National University of Science & Technology, Oman.
Dr.K.Muthukumarappan, Dept. of Agriculture & Bio Systems Engg, South Dakota State University, USA.
Dr.Sanjeevikumar Padmanaban, Full Professor in Electrical Power Engineering, Department of Electrical Engineering, IT and Cybernetic, University of South-Eastern Norway, Porsgrunn, Norway.
Dr. Marcin Kozak, Associate Professor, University of Information Technology and Management in Rzeszow, Poland.
Dr.Abdul Rahim Sadiq Batcha, Associate Professor, MAHSA University, Malaysia 
Dr. Noor Zaman Jhanjhi,Associate Professor,Taylor's University SDN BHD.
Dr.Gabriela John, Asiistant Professor, San Jose State University, California.
Dr.Bishnu Karki, Asiistant Professor, South Dakota State University
NATIONAL MEMBERS
Dr.K.Porkumaran, Chairman/IEEE Madras Section
Dr.P.Sakthivel, Vice Chairman-Academics, IEEE Madras Section
Dr.S.Joseph Gladwin, Vice Chairman-Industry, IEEE Madras Section
Dr.R.Hariprakash, Secretary, IEEE Madras Section
Dr.S.Radha, Treasurer,IEEE Madras Section
Dr.N.Kumarappan, Immediate Past Chairman,IEEE Madras Section
Dr.Thangaprakash Sengodan,Senior Member, IEEE
Dr.Arun Raj Kumar.P, Assistant Professor, NIT, Calicut
Dr.M.Prabu, Assistant Professor, NIT, Calicut
Dr.R.Balasubramanian, Professor, IIT, Roorkee
Dr. Saravanan Chandran, Associate Professor, NIT, Durgapur
Dr.V.Manikandan , Associate Professor, Coimbatore Institute of Technology
Dr.K.Saravanan, Professor, School of Electronics Engineering, VIT, Vellore
Dr.N.Senthilkumar, Senior Professor & Head, Mepco Schlenk Engineering College
Dr.K.Suganya Devi, Assistant Professor, NIT, Silchar
Dr.Gnanou Florence Sudha, Professor, Puducherry Technological University
Dr.A.Kumaresan, Assistant Professor, Hindustan Institute of Technology & Sciences, Chennai
Dr. Yamuna Govindarajan, Professor, Annamalai University
Dr. N. Venkateswaran, Professor, SSN College of Engineering, Chennai
Dr.R.Ramesh, Professor, Anna University
Dr.M.Sethumadhavan, Professor, Amrita Vishwa Vidyapeetham.
Dr.M.Thirumarimurugan, Professor &Head, Coimbatore Institute of Technology
Dr.T.Meenakshi, Associate Professor, Jansons Institute of Technology
Speakers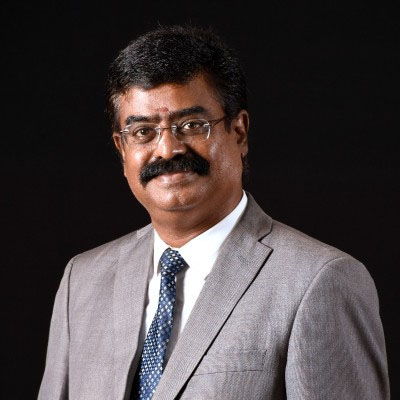 Inaugral Speaker (Online)
Dr. K.Porkumaran
Chairman, IEEE Madras section,Principal and Senior Professor,Sri Sairam Engineering College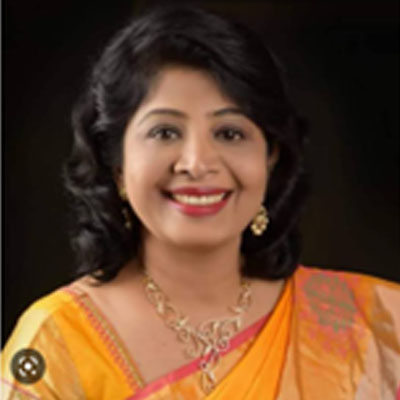 Key Note Address 1 (Online)
Dr. Latha Christie
Scientist G/Associate Director, DRDO, Ministry of Defence, Bangalore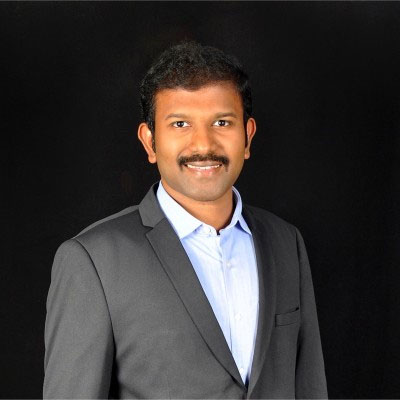 Key Note Address 2 (Offline)
ETB.Samuel Jigme Harrison
Semiconductor Professional, (Senior IEEE member) Singapore
Schedule
To download PDF version click here..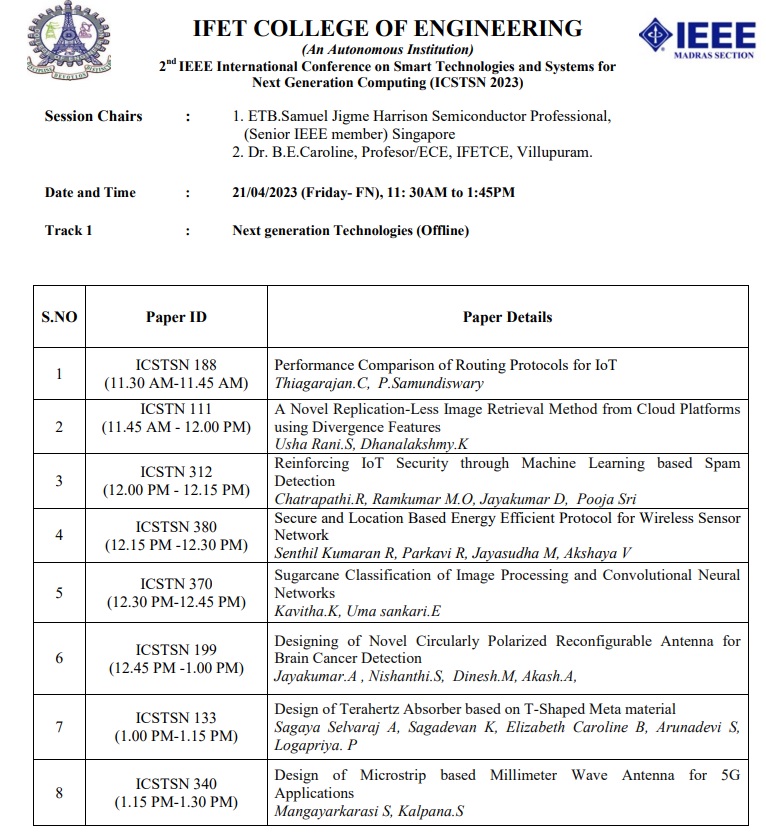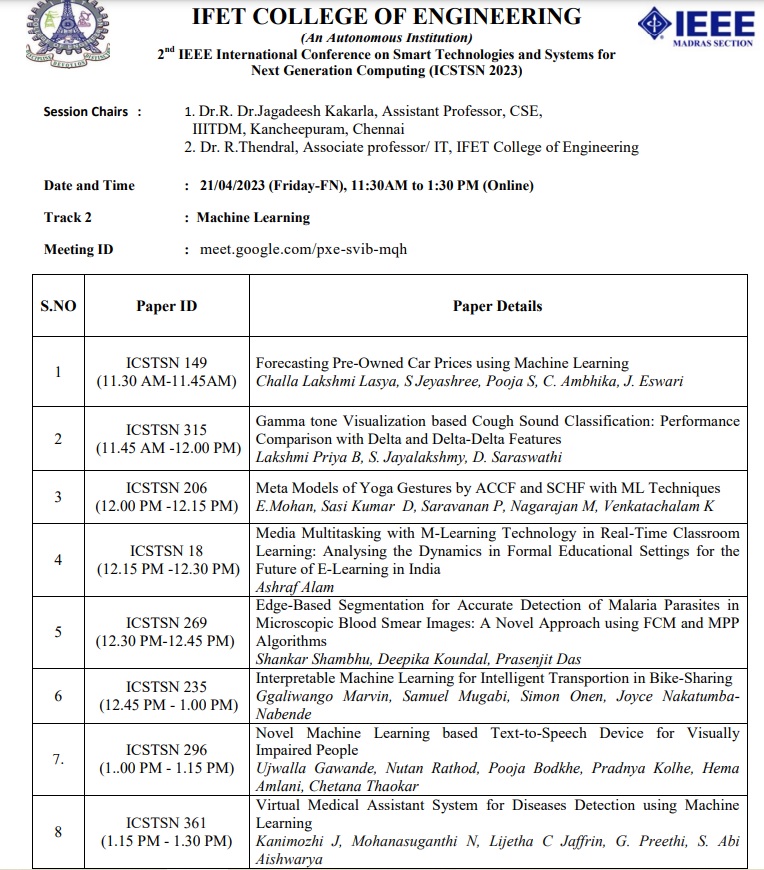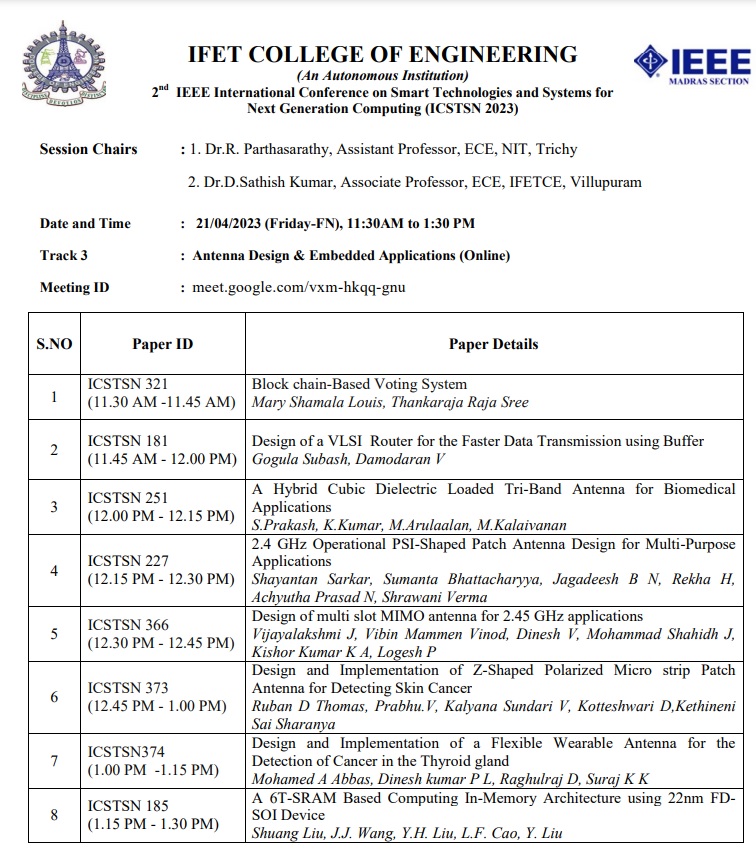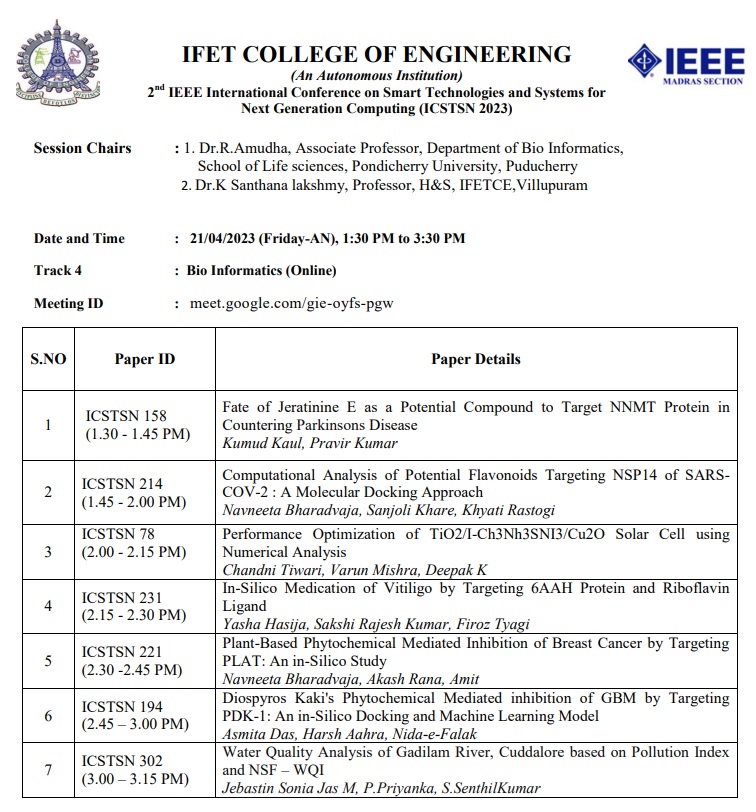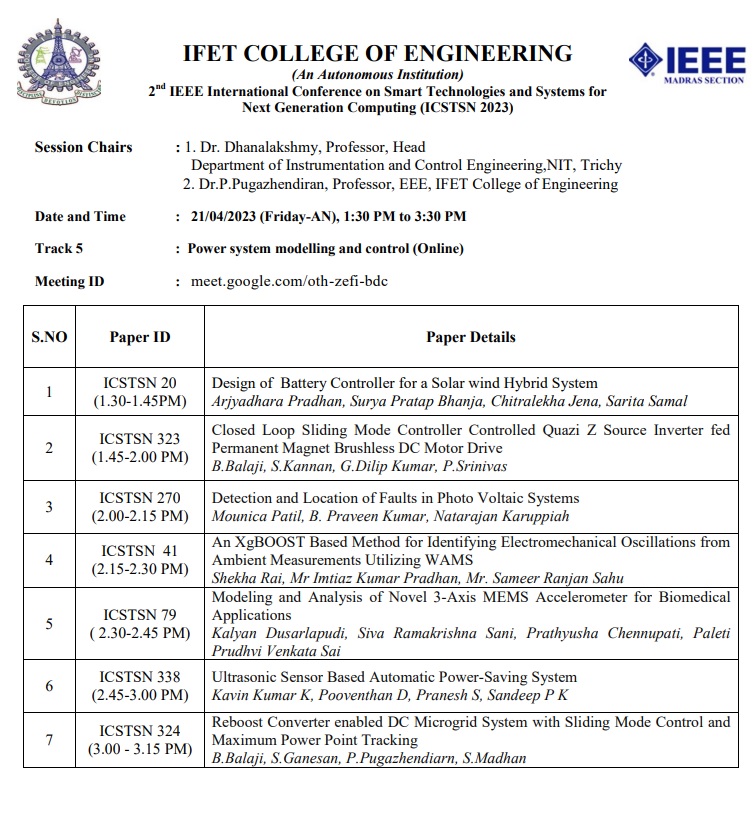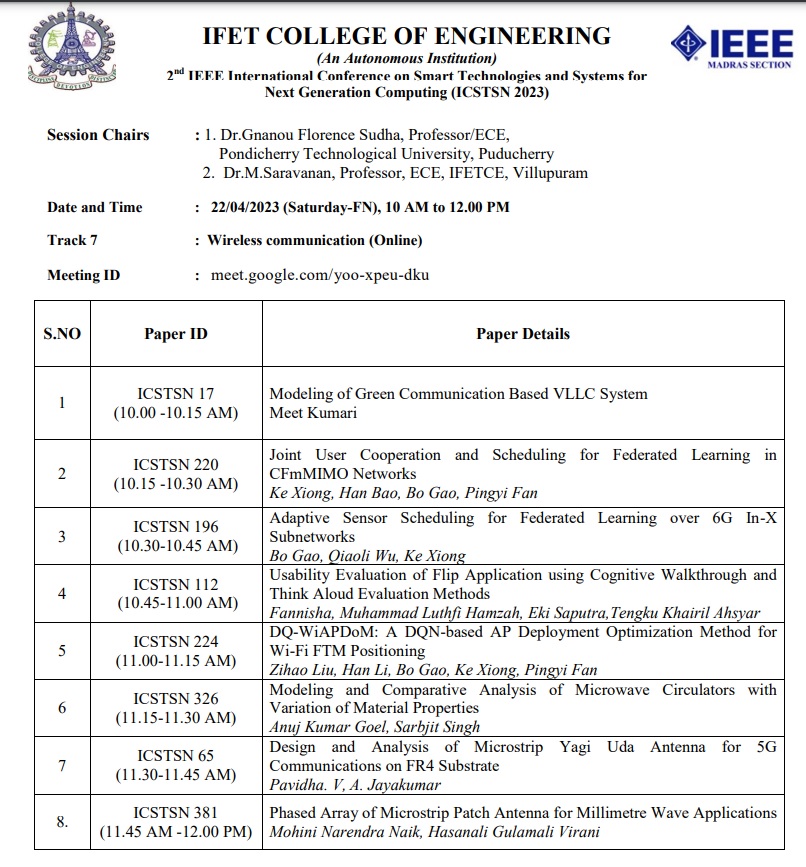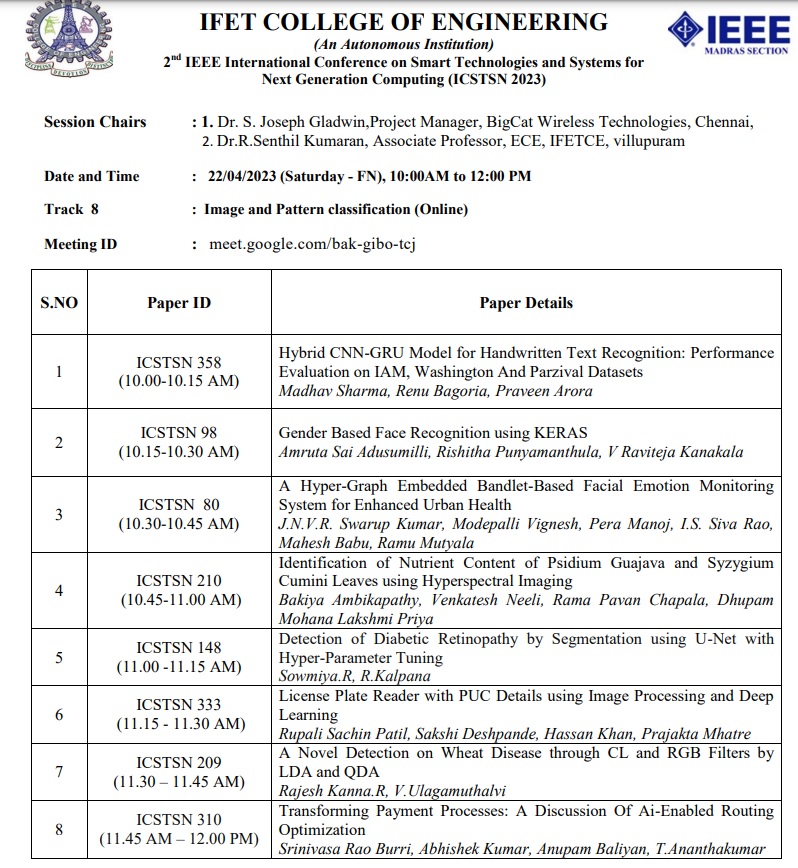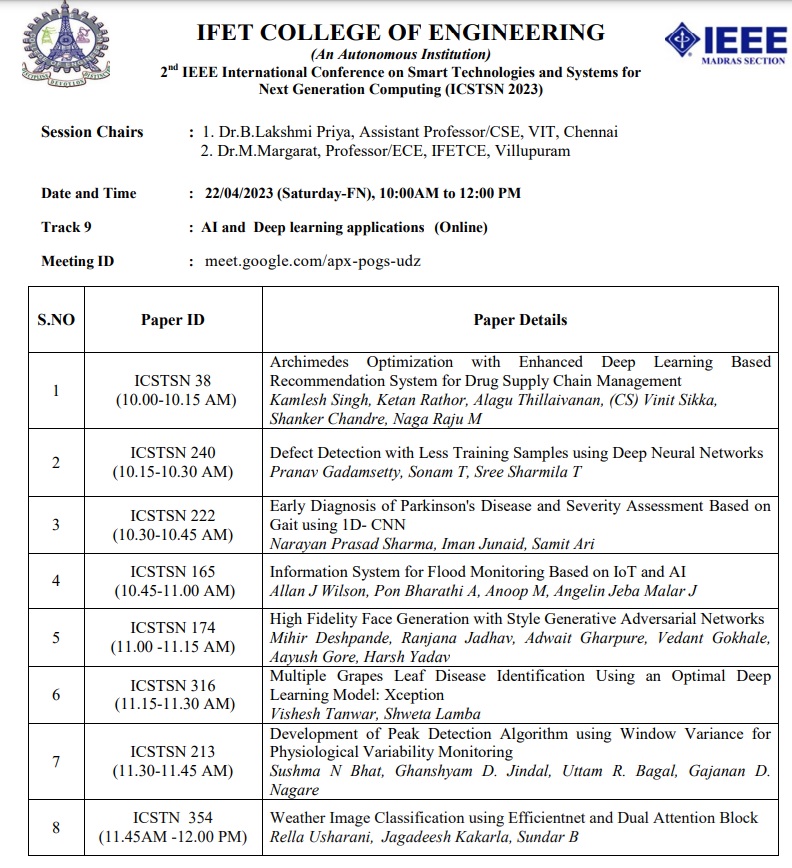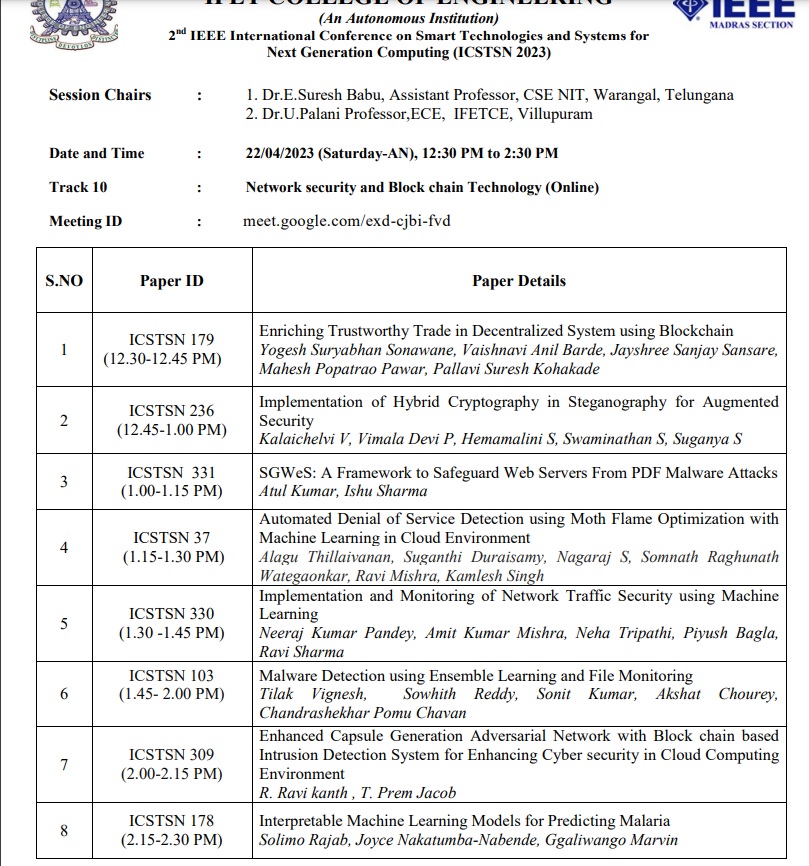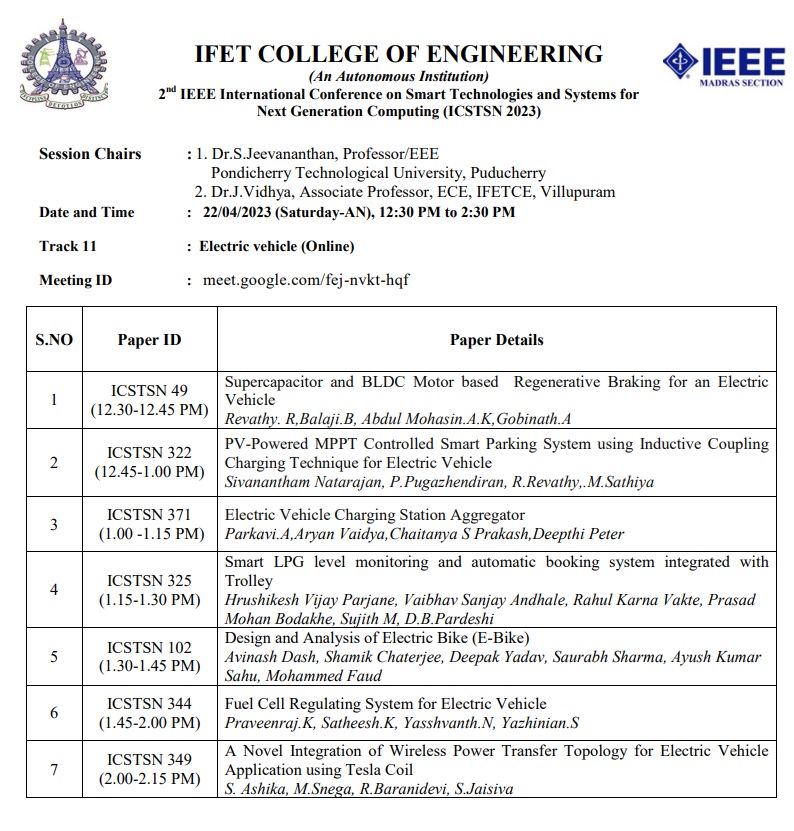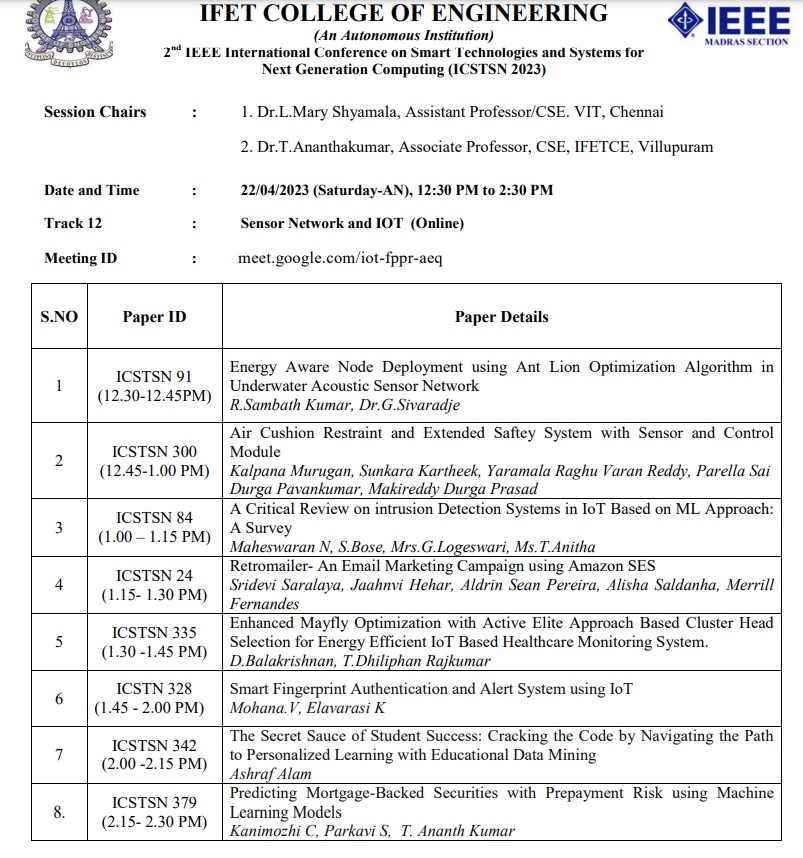 Contact
For more information Contact
Dr. S. Jayalakshmy
Co-ordinator- ICSTSN 2023
Associate Professor/ECE
jayalakshmyece@ifet.ac.in
Mobile: +91 9994191007
Our Address
IFET Nagar, East Pondy Road, Gangarampalayam, Villupuram, Tamil Nadu, Pin 605108
Email Us
icstsn2023@ifet.ac.in
Call Us
+91 4146 231456
+91 4146 231457
+91 4146 231458
Fax: +91 4146 231456